Here is your list of the newest and most innovative potato varieties available for Canadian commercial potato growers this season.
With planting season just around the corner, Spud Smart checked in with potato breeders and seed growing companies from across the country to see what the latest varieties available for the 2021 growing season are.
Agriculture and Agri-Food Canada
AAC Madam Blue
AAC Madam Blue is an attractive round, blue skinned fresh market variety with cream flesh. It's high yielding and has a good skin set with resistance to potato wart and golden nematode. Moderate disease resistance was also found for foliar late blight. The tuber is licensed to the Newfoundland and Labrador Department of Fisheries, Forestry and Agriculture where "late, dry, blue" varieties are traditionally grown.
AAC Shirley
AAC Shirley is a round fresh market variety with smooth red skin and light-yellow flesh. It has mid-season maturity with high yield and resistance to common scab. It's produced by Kroeker Farms in Winkler, Man. who named the variety after an employee who worked for over 50 years with them. AAFC notes if attention is not paid to row spacing or it's left too long before top killing, it can produce large tubers. AAC Shirley has good boil and bake properties.
Edmonton Potato Growers
Audrey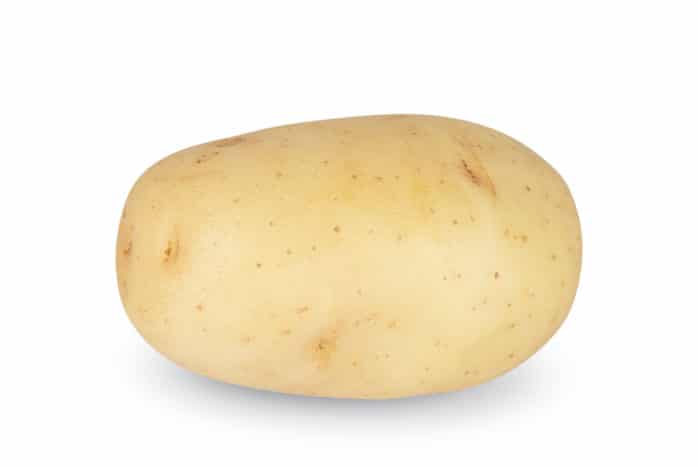 Audrey is a white fresh market variety developed by HZPC. It has an attractive appearance and gourmet taste. The tubers are round/oval with medium to early maturity. It has resistance to common scab and maintains its colour during storage.
Torino
Torino is a smooth red skinned variety with yellow flesh bred by IPM Potato Group. It has maincrop maturity with very high yields and is suited for early season storage. Torino has very good general resistance to disease. IPM notes Metribuzin can be used on Torino for pre-emergence only.
New Brunswick Department of Agriculture, Aquaculture and Fisheries
AAC Canada Gold-Dorée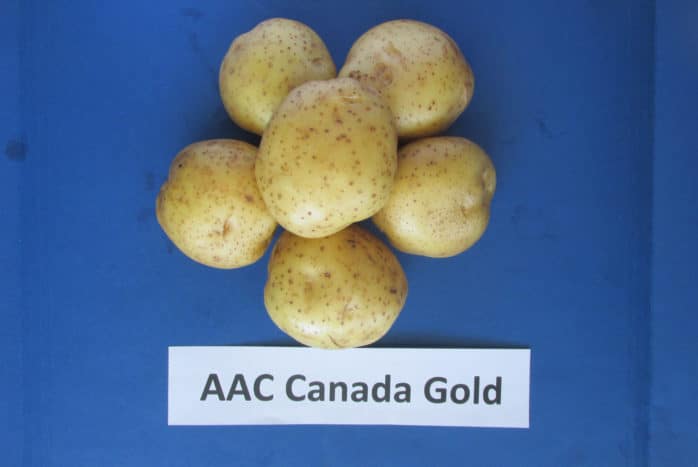 AAC Canada Gold-Dorée is an early market fresh variety which can be used as a replacement for Yukon Gold. It has a moderately short dormancy with mid-season maturity, round tubers and light-yellow flesh. It's licensed by the Canadian Eastern Growers and has moderate resistance to scab, low to moderate resistance to black spot bruising, it's resistant to PVY by mechanical inoculation and has some resistance to foliar late blight. It also has good drought tolerance and yields 17.4 per cent higher than Yukon Gold with good boil and bake scores and a relatively moist texture.
AAC Valley Crisp
AAC Valley Crisp is a chipping variety with short dormancy, and mid to late season maturity. Tubers are oval with smooth white skin. It's resistant to scab and has a moderate black spot bruise score. It yields 2.5 per cent higher than Snowden and keeps chip colour throughout the storage season. It also has a good boil properties and fair bake quality.
Manistee
Manistee is a chipping variety with medium dormancy and early to mid-season maturity. It has round tubers and emerges faster than Snowden. Sadly, it is susceptible to common scab and to late blight, but it has better tolerance to blackspot bruise, a very low incidence of growth cracks and hollow heart and has a slightly better tolerance to heat and dry conditions than Snowden. Its yield is 11.8 per cent higher than Snowden and it has excellent chip processing ability for short and long-term storage. It has better flavour than Snowden and has shown good resistance to stem-end chip defect.
Solanum International
Cerata KWS
Cerata KWS is a high yielding smooth skinned fresh market variety with very shallow eyes. It has mid-season maturity with high common scab resistance. Tubers are large and round/oval in shape with flesh that's creamy white and a red skin colour. It was originally developed in the Netherlands and has good dormancy and storability with some heat and drought tolerance. Solanum notes it requires a slightly lower Nitrogen fertilization.
Queen Anne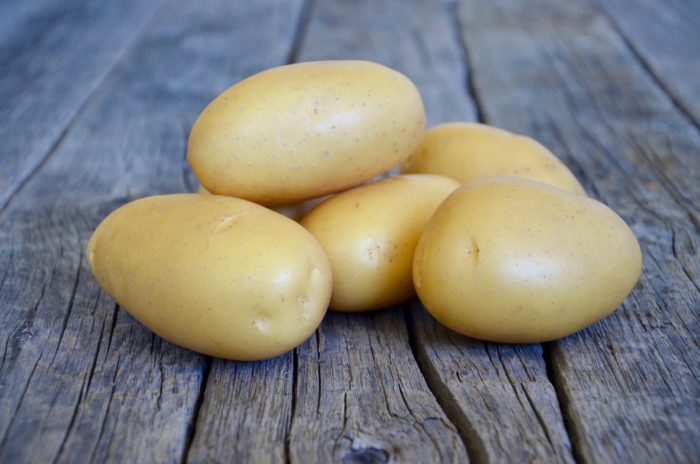 Queen Anne was developed in Germany and is an early maturing fresh market variety with high yields. It produces long oval, yellow fleshed tubers with smooth, bright-yellow skin. It also has excellent resistance to rhizoctonia, bruising and common scab. It's a gourmet variety with a firm cooking type. Solanum notes it's a good variety for organic farms.
Related Articles