Germany
Colorado potato beetle (CPB) is one of the most destructive and hard to control insect pests due to its resistance against pesticides. Researchers from Max Planck Institute have now developed an alternative to pesticides. According to the researchers, the new technology utilizes molecular biology and allows for precise protection against CPB without using chemicals or introducing foreign proteins into the potato plant.
This was done by adopting the mechanism of RNS interference (RNAi) in protecting plant, fungi and insect against virus. The RNAi works by identifying the double stranded RNA transferred by the viral pathogen to host's cell and chopping this dsRNA into small interfering RNAs (siRNAS). siRNAs are then used to detect and destroy foreign RNA.
This RNAi mechanism has been employed by genetically engineering plants to modify their nuclear genome to produce dsRNA against insect pests. The researchers aimed to improve upon this process by developing transplastomic plants, in which the chloroplast genome is subject to modification instead of the nuclear genome. Feeding studies of potato beetle larvae with the leaves of transplastomic plants show that the leaves are lethal to the larvae and gain an increase resistance against herbivores.
Source: Max Planck Institute
France
A major campaign to stimulate the consumption of potatoes has begun in France. Spearheaded by France's major potato association and financially supported by the French government and the European Union, the three-year effort will target various media platforms, including TV, web and social media.
The campaign encompasses two different marketing programs — one focused just on potatoes and the other focusing on other fruits and vegetables in addition to potatoes. The first campaign stresses the versatility of the potato, and delves into how different potato dishes require different potato characteristics and therefore different potato varieties.
France is the second potato producer in the western European Union, after Germany, and is the EU's biggest exporter of potatoes.
Source: CNIPT
Armenia
Armenia's potato exports rose considerably in 2013 and 2014 from previous years. According to figures provided by the country's National Statistical Service, Armenia exported 23,500 tons of potatoes in 2013, the largest amount of potato exports since 2007. The country exported slightly fewer potatoes in 2014 than it did in 2013.
Prior to 2010, Armenia exported potatoes only to Georgia and Russia. Afterwards, the export market expanded to Iran, Iraq, Kazakhstan and Turkmenistan. In 2013, Iraq was the largest importer of Armenian potatoes at 5,000 tons.
Until 2013, Armenia was also importing more potatoes than it was exporting, Since 2007 most of these potato imports have come from the Netherlands.
Source: hetq
Uganda
The East African nation of Uganda is getting it's first potato processing plant. It was announced in January that the US$10-million factory will be built in Kisoro, about 50 kilometres from Ugandan capital Kampala.
The french fry production plant will be a major outlet market for for potato farmers in three countries: Uganda, Rwanda and Eastern Democratic Republic of the Congo. There also plans to expand production at the factory into other food products to utilize the potential of Uganda agriculture.
Source: East African Business Week
United States
More than any other segment of the food industry, the potato industry has made the greatest improvements in the fatty acid profile of its products, including french fried potatoes. Although the oils used to cook today's fries are now predominately all-vegetable oils that contain primarily mono- and polyunsaturated fats, French fries are still often incorrectly cited as a source of trans fat in popular media and scientific publications alike.
The dramatic reduction in the trans fat content of French fried potatoes was recently confirmed by two new studies published in Preventing Chronic Disease. Researchers at the Jean Mayer USDA Human Nutrition Research Center on Aging at Tufts University analyzed the calorie, sodium, saturated fat, and trans fat content of popular menu items served at three national fast food chains between 1996 and 2013. They found that while the average calorie, sodium, and saturated fat content stayed relatively constant across most menu items, there was a marked and consistent decline in the trans fat content of french fries.
These changes are documented by three more key government studies, which were acknowledged by the U.S. Food and Drug Administration in its recent notice on the proposed rule on the Generally Recognized as Safe status of partially hydrogenated oils. In addition to transforming the nutrient profile of cooking oils, innovations in food technology are continually improving the nutrient profiles of all forms of the white potato to ensure that this already nutritious, affordable, and popular vegetable continues to align with dietary guidance.
The most recent available consumption data show that French fries are consumed in amounts well within current dietary guidance and that they contribute important nutrients while providing a very small proportion of calories, saturated fat, and trans fat to the diets of Americans.
Source: Alliance for Potato Research and Education
Korea
Scientists at the Korea Research Institute of Bioscience and Biotechnology have developed a new technology that aims to prevent desertification using biotech crops, including sweet potato. The research team has successfully planted biotech sweet potatoes in China's Kubichi Desert and in Kazakhstan, two of the largest semi-arid areas in northeast Asia.
"Our ultimate goal is to grow a large amount of genetically modified sweet potatoes in areas affected by desertification in China, Kazakhstan, the Middle East, and Africa, based on decoded information on the genome of sweet potatoes," says research leader Kwak Sang-soo.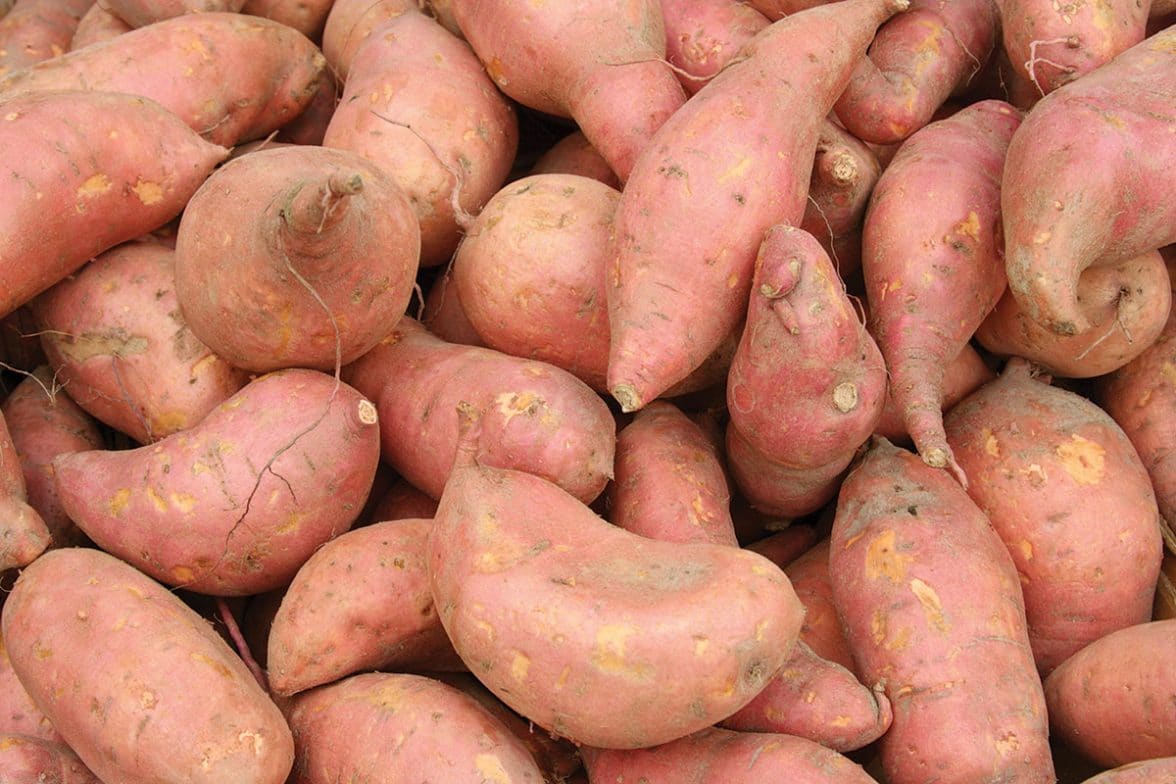 Sang-soo says about 90 percent of desertification is due to poverty. "Overgrazing, damage to forests, and the inappropriate management of water and soil, stemming from the poverty of the local people, are core reasons for desertification. So, the cultivation of crops can be the most effective preventative measure," he explains.
The research team is also decoding the genome of sweet potatoes in collaboration with Chinese and Japanese researchers. The genome of sweet potato is harder to decode than the human genome, but researchers predict the project will be completed in 2016.
Source: Business Korea.