[deck]Climate change and disease could put tuber biodiversity at risk in Latin America, the birthplace of the potato. The International Potato Center in Peru is taking steps to try to ensure that doesn't happen.[/deck]
The Andean region of Latin America has long been regarded as one of the most fertile and productive areas in the world when it comes to potato cultivation. The area is home to more than 4,000 varieties of native potatoes, some of which have existed since the time of the Incas.
However, there is growing concern that this tuber biodiversity could be at risk as a result of several factors including the growth of urban centres, climate change and farmers leaving the industry for more lucrative pursuits.
It was this concern about the potato's future in the region that prompted the International Potato Center (CIP) to prioritize biodiversity conservation and use, right from the beginning of its existence in the 1970s.  In the last decade, CIP has undertaken a project known as Potato Biodiversity, Conservation and Use for Markets in Latin America. The aim of the project is three-fold: to protect potato biodiversity through genetic research; to promote new uses for native varieties and increase demand for them; and produce new streams of revenue for growers.
Oscar Ortiz, deputy director general for research and development for the Lima, Peru-based CIP, says there is a very real possibility some of these varieties could disappear if something isn't done to protect them, both in the field and in the marketplace.
Temperatures Rising
"Absolutely, it's very real," Ortiz says. "With the concentration of climate change and the effects in the Andes, it's increasing the vulnerability [of these native varieties] because temperatures are increasing in the Andes, which will mean that a number of diseases and insects that were not present in the past now will be."
Work on the project began about five years ago and most of the research has been centred in Bolivia, Ecuador and Peru. Those three countries were chosen for study because they have the highest concentration of potato fields in the Andes as well as some of the highest levels of poverty in the region.
Andre Devaux, CIP's regional director for Latin America and the Caribbean, says finding new uses for some of these centuries-old varieties is a key part of the project's mandate. Developing new products will increase demand for these varieties, increase profits for small-scale farmers and ensure these varieties don't disappear from fields.
CIP partnered with several public agencies and non-governmental organizations to determine why consumption of many of these native varieties has declined and identify what types of new products might be of interest to consumers and businesses.
Devaux says one of the first ideas to emerge from this participatory market chain approach was to use native varieties in potato chips and other snack products. The first products to be developed were small bags of potato chips featuring blue, red, yellow and purple chips. They were initially sold only in duty-free shops at Jorge Chávez International Airport in Lima and were an instant hit with travellers looking to take home a souvenir.
It wasn't long before several other smaller companies began manufacturing them, which caught the attention of several bigger companies.
"Demand was growing," says Devaux, "and this is when the bigger companies came back and had seen that the idea was growing and said, 'OK, why don't we work together on this?'"
Restaurants Targeted
As part of the project's efforts to increase markets for native varieties, CIP and its partner agencies worked to convince restaurateurs to offer some of these high-quality spuds on their menus. It worked.
"Currently in most Peruvian restaurants here in Lima, you'll find native potatoes now that are kind of an exotic product that have helped to connect consumers with [these varieties]," says Ortiz.
Ortiz attributes the increased popularity of native potatoes in part to the public education efforts of CIP and its partners to increase public awareness. Many varieties had simply become forgotten as more and more people had moved from rural communities to large urban centres where many of those varieties were not readily available.
"One of the reasons for the low demand was that most of those varieties were not known in the cities, other than a few of them. Many Peruvian consumers who live in the bigger cities didn't know there are so many different varieties of potatoes in the Andes," says Ortiz, adding the success of the project has helped influence governments in the region to adopt policies that recognize the value in protecting biodiversity.
The only real downside to this increased demand is the challenge of ensuring there is sufficient supply for processors. CIP is already looking at ways of addressing any bottlenecks in production, including ways of producing more seed for the more popular varieties, according to Ortiz.
"The challenge, of course, is to replicate it sufficiently in different parts of Peru, Bolivia and Ecuador so that we can have an impact in terms of farmers conserving those varieties and planting those varieties and making profits off those varieties, so that this can be sustainable over time," he says.
Protecting Smaller Growers
While ensuring there is sufficient supply is a top priority, Devaux says part of CIP's mandate is to make sure that smaller growers continue to be part of the supply chain.
"It is still one of the main headaches," he says of ensuring smaller growers aren't squeezed out by much larger operations.
"If you want to involve as much small-scale farmers [as possible] in this type of business, you have to give a lot of support to them and technical assistance. But in this case these potatoes grow better at higher altitudes. They have to be grown in the highlands. That gives an advantage to the smaller farmers."
Devaux says recent analysis of the trends in Peruvian potato production indicate this CIP-supported initiative has stimulated demand for native and improved potatoes and has also contributed to the supply of new production technology. This is supported by the fact that many small farmers, including those who cultivate native potatoes, have benefited from the recent increases in potato production, sales and farm-gate prices.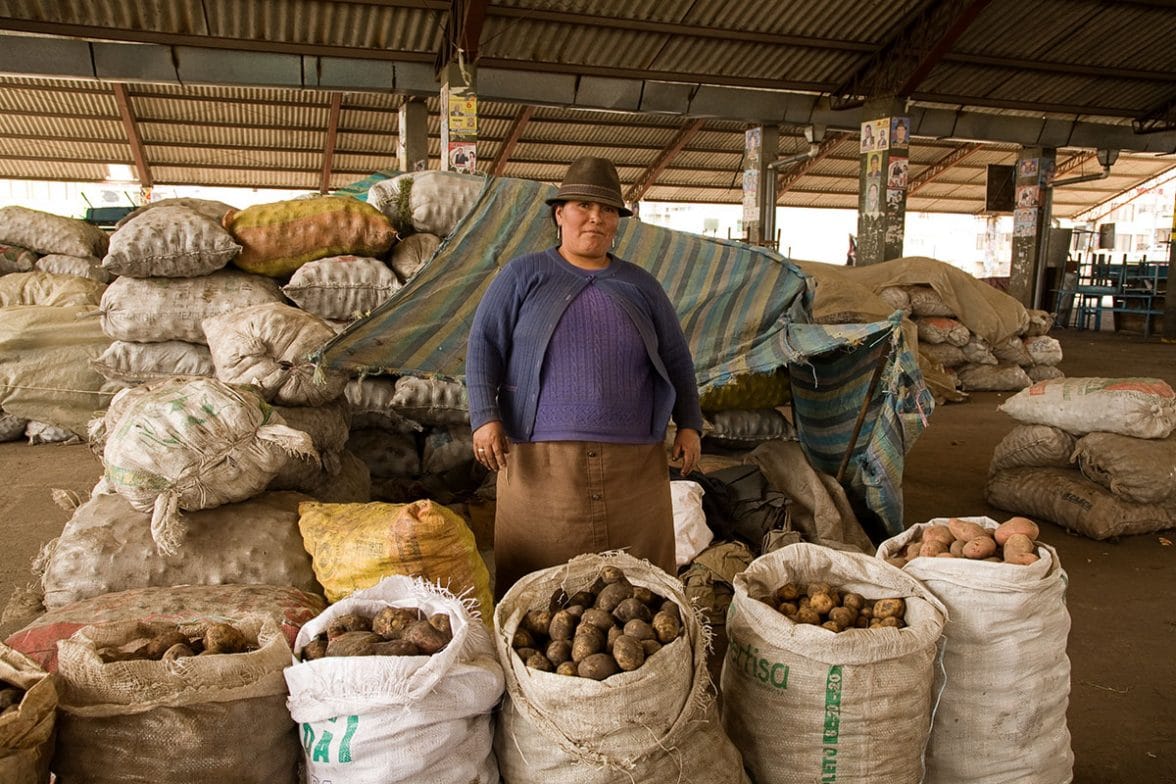 Devaux is hopeful CIP will be able to conduct an impact study at some point once enough data is available for a thorough analysis. In the meantime, research continues. One of the next priorities for Devaux and his fellow researchers is studying and promoting the nutritional benefits of native potatoes in the region.
"Initially we have been promoting these potatoes [because] they are nice looking, and for the nice colours and the fact they are tasty. Now we are including the concept of nutrition," Devaux says.
"Some of these potatoes, especially the blue and red ones, their content of antioxidants is quite high, so that's another element that we are now studying."
Other areas the CIP team plan to study are strengthening the negotiating powers of small-scale growers so they can be more competitive with larger operations. It is also planning to study the gender issue as males move to bigger cities to work and an increasing number of women are remaining behind to manage farm operations.
The project is just one of several initiatives CIP is spearheading to protect biodiversity in the region. It has more than 5,000 samples in its own genebank in Lima, the largest such genebank in the world, and is working with several international groups such as the CGIAR, to provide resources to farmer groups where needed.