Research and education are key to keeping potato plants safe from disease transfer by tomatoes.
While COVID-19 restrictions have encouraged home gardeners to dive deep into growing their own produce now that they have more time on their hands, it carries risk for the commercial potato crop in Canada. The issue is late blight, caused by the fungus-like pathogen Phtrophthora infestans. And while it can cause disappointing losses for homegrown tomatoes, eggplants and peppers, it can decimate entire potato crops.
Late blight is the disease which was responsible for the Irish Potato Famine of the 1840s. It destroyed half of the potato crop in 1845 and about three-quarters of the crop over the next seven years. An estimated one million people died and another one million fled the country because of starvation and poverty.
"So far, late blight has been absent in most of the country this year, with only a few minor reports of the disease," says Rick Peters, research scientist in vegetable pathology with Agriculture and Agri-Food Canada (AAFC). "This is due to the hot, dry weather that has prevailed in much of the country. This could change though, if the weather becomes wetter in late summer/fall and growers need to remain vigilant."
As a preventative approach, the Prince Edward Island Department of Agriculture and Land and AAFC restarted a campaign which began five years ago to educate home gardeners about the problem. Potatoes are the most significant agricultural crop in P.E.I. Last year, P.E.I. exported over $400 million in seed, fresh and processed potato products.
When the program was launched, disease resistant varieties of tomatoes had recently been developed and are now more widely available at garden centres.
"In 2020, many of the locally-owned and operated garden centres are carrying blight resistant tomato varieties and promoting them to their customers," Mary Kay Sonier, seed coordinator with the P.E.I. Potato Board, says.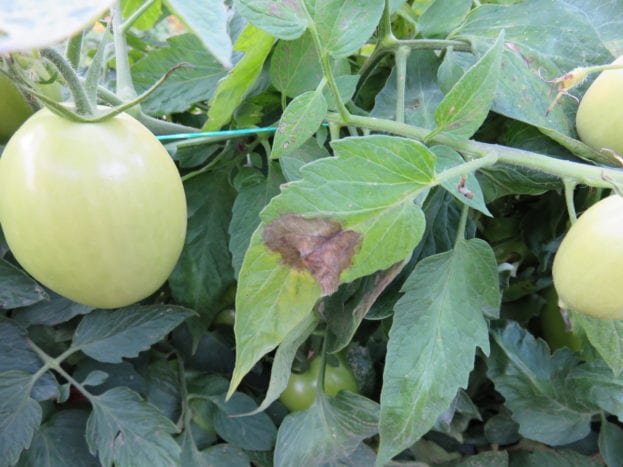 Those tomato varieties include Mountain Merit, Mountain Magic, Plum Regal, Jasper and Defiant, among others. Late blight affects several plants in the Solanaceae family, which also includes eggplant, peppers and potatoes.
"Our focus this year was encouraging people to plant blight resistant tomatoes and to also be aware of late blight in potato and pepper plants in their home gardens and what to do if they see symptoms," Sonier explains. "We also tried to explain how the disease in home gardens could spread to commercial crops and encouraged people to be a good neighbour by disposing of the infected plants in the appropriate manner before spores can spread."
Home gardeners were encouraged to plant and harvest early and have harvest completed by mid- to late-summer when plants are more likely to become infected. In commercial fields and in home gardens, infected plants must be destroyed to prevent further spread.
Sonier adds the big challenge is with the big box stores, who cater to the home grower. The plants the stores purchase for resale come from a central distribution centre, so staff may be ill informed on what they are selling when it comes to infected plants or the fallout thereafter.
Peters says similar efforts are happening across Canada.
"I've been travelling to various grower and industry meetings across Canada over the past few years to spread the word about growing late blight-resistant tomato varieties," he explains. "There have also been news releases in the media and articles in trade journals. As well, colleagues in government and academia in each potato production region (province) have also been spreading the word in their areas."
While the 2020 growing season was largely spared from the disease, late blight is a national concern and can be found in all potato production regions of the country in any given year, Peters says.
"Its prevalence is largely dictated by the weather. Late blight progresses best in cooler, wetter conditions. And the presence of inoculum or strains of the pathogen is necessary for disease development. We have a national study to research the disease and the strains of the pathogen that cause it. This study is a cluster project administered by the Canadian Horticultural Council with funds from industry and AAFC and includes participants from across Canada," Peters says.
Germaniums May Also Bring Threat
Early this spring, another threat, Ralstonia, was discovered in the United States. This time the carrier was germanium plants and much like late blight, it can cause disease in commercial potato crops.
The U.S. Department of Agriculture's Animal and Plant Health Inspection Service (APHIS) says the detection of Ralstonia solanacearum race 3 biovar 2 (RSr3b2) is the first confirmed case since 2004. The infected plants originally came from a greenhouse in Guatemala and were distributed from Michigan to more than 650 facilities in 44 states.
All Fantasia 'Pink Flare' geranium plants, co-mingled and exposed host and non-host plants were immediately destroyed, and the greenhouses sanitized according to the protocol to clear the facility of the pathogen.
The plants were also shipped to a greenhouse in Ontario, according to a news release from Canadian Food Inspection Agency (CFIA). The greenhouse destroyed all of the infected geraniums and followed CFIA disinfection instructions.