The Canadian sweet potato industry is preparing itself to expand with a new variety developed specifically for the country's climate.
Sweet potato consumption in North America has doubled in the last decade —which is good news for Canadian growers. But the celebration doesn't stop there, as a made-in-Canada variety of the root vegetable is showing excellent yields in recent trials.
Radiance, a variety developed by Vineland Research and Innovation Centre in Ontario in collaboration with Louisiana State University AgCenter, is bred specifically for Canada's shorter growing season.
The sweet potato is a tropical plant native to Central and South America, with most commercial production occurring in warmer regions with long frost-free periods. The most common varieties grown in Canada are Covington and Orleans. They take up to 132 days to reach maturity, which is cutting it close when it comes to frost free days.
"In 2012, we started a breeding program to identify sweet potato genetic material that could be harvested earlier," says Valerio Primomo, a research scientist and vegetable breeder at Vineland. "With a harvest in October, growers face the threat of chilling injury that causes the potatoes to rot in storage. Radiance can be harvested in September."
The new variety matures up to 20 days earlier than other varieties — depending on heat units during the growing season.
Field trials over the last few years have yielded promising results. Trials during the 2019 growing season focused on plant density (single row versus double row), optimal in-row plant spacing, the use of black plastic and long-term storage.
It was determined that by planting Radiance in early June using a double-row with an in-row spacing of 30 cm produced higher yields of United States Grade #1 than those planted 20 and 25 cm apart. Black plastic also increases soil temperatures which helps sweet potato roots mature earlier in Canadian provinces with cooler climates. Radiance also held up in storage as well as the two traditional varieties. But it was in total marketable yield where Radiance stole the spotlight.
"We found that the total marketable yield of Radiance was higher than Covington and Orleans for both early and late plantings with single and double rows at all spacings," Primomo says.
Radiance also performed extremely well in consumer trials. Consumers preferred it's deep red skin tone, vibrant orange flesh and taste compared to current leading varieties.
With demand growing and Radiance showing promising results, Canada is well positioned to grow more sweet potatoes at home, reducing the need for imports. In 2018, more than 2,000 acres of sweet potatoes were planted in Canada, generating $21 million in farm gate sales. The majority of acres are grown in Ontario, with British Columbia, Manitoba, Quebec and Nova Scotia also growing sweet potatoes.
Sweet potatoes grow best in deep, fine sandy soils with relatively low levels of organic matter and clay content. While this influences the shape of the roots, these soils also warm faster, helping with the successful production of sweet potatoes.
Expanding Canadian Production
The next step is to develop a viable supply chain of Canadian-grown sweet potato unrooted vine cuttings — called slips.
Current leading varieties such as Orleans and Covington, developed by the Louisiana State University and North Carolina State University breeding programs respectively, are available mainly through North Carolina suppliers. Sweet potato growers in Canada import these slips, sometimes incurring large costs for air or ground transportation, risking the possibility of downgraded quality due to travel time. Additionally, U.S. grown slips are sometimes not available in time for optimal planting.
Establishing a Canadian slip propagation industry will allow growers to access slips when needed and eliminate expensive transportation costs, Primomo says. Addressing this is a critical step for the sweet potato value chain as it will remove a major bottleneck which is holding the Canadian industry back.
Primomo says work is underway to develop the supply chain for Radiance. Vineland has licensed Radiance to Jones Family Farms in North Carolina. This will help encourage large Canadian growers to grow it as trials this year. Vineland is also interested in licensing the variety to Canadian propagators so growers can access locally sourced, high quality slips.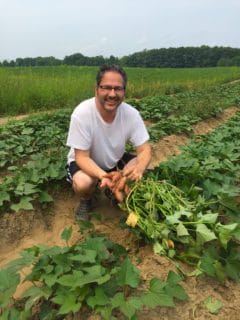 To support the propagation of Canadian-grown slips, Vineland has created a business opportunity document, aimed at greenhouses, which is available online.
Canadian growers are mostly contracted to grow sweet potatoes by supermarket chains, especially in Ontario. As demand grows though, other jurisdictions are hoping to bring more of the orange-fleshed vegetable to their customers.
"Peak is always interested in being able to provide a wide assortment of vegetables to our customers and that would include sweet potatoes, especially Manitoba grown sweet potatoes," Tracy Shinners-Carnelley, vice-president of research and quality at Peak of the Market, says.
"Peak of the Market's research program has partnered with Vineland on their variety development efforts and continue to stay connected as sweet potato production develops in Canada. There are Manitoba growers who are interested in being a part of this new and developing industry."
The Facts on Sweet Potatoes
Sweet potatoes belong to the morning glory family, while other potato varieties are members of the Solanaceae family which includes tomatoes, red peppers and eggplant.
They are tuberous roots, while potatoes are swollen stems.
Sweet potatoes have higher levels of beta carotene than many other vegetables and are a source of potassium, fiber and vitamins A and C.
Worldwide, sweet potatoes are a staple crop for food consumption. They are the sixth most consumed food crop after rice, wheat, potatoes, maize and cassava. In developing countries though, they climb to number five.
China is the world's largest producer and consumer of sweet potatoes, it is used for food, animal feed, and processing there.
Since 1971, North Carolina has been the leading sweet potato production state, producing approximately 60 per cent of all sweet potatoes grown in the United States.