Despite a wet summer with slow and difficult harvesting conditions potato growers in Europe were able to harvest a good potato crop, but increased production costs weighed on profits, the North-western European Potato Growers (NEPG) says in a news release on Nov. 19.
"After one of the most humid summers in the last decades, end of harvest conditions were slow and somewhat difficult in most countries. France was the exception with a very easy and rapid harvest," the release says.
Most growers delayed their harvest waiting for better harvesting conditions, however some ended up with slow harvesting conditions and yields. The report notes at the end of September and into October/November in Belgium, potato harvesters were running at 60 to 70 per cent of the capacity, slowing down harvest progress.
Potato Yields Good to Average
Potato yields in the NEPG zone were good to average with processors taking almost all of the potatoes, the release says. However, net yields are lower due to losses in fields due to water damage and physiological problems such hollow hearts, split potatoes and growth cracks.
"And also due to storing problems which have started in some cases. But the industry, who very much needs all potatoes, is taking on most of the tubers without making much of a fuss."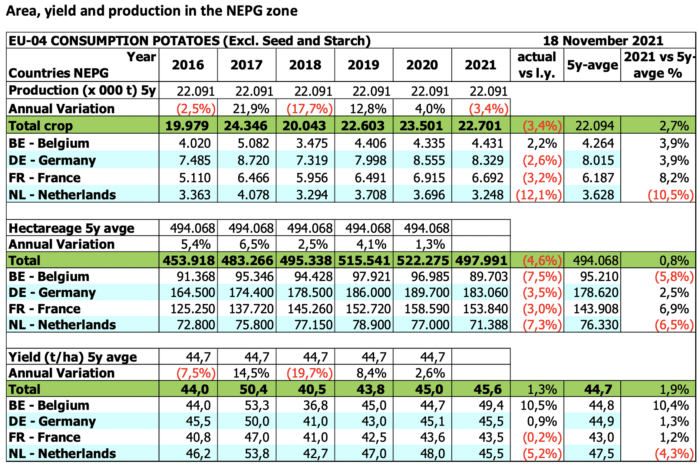 Overall potato production in the NEPG zone fell by 24,000 hectares to 498,000 hectares this year. The release notes free markets have been supported by the reluctance of producers to sell what is now in storage, and by the dynamics of finished product sales. Industrial processing has been facing supply difficulties and increased costs for some inputs.
"These uncertainties aside, most observers nevertheless expect balanced markets throughout the season, with farm prices at least similar to contracts."
Higher Production Costs and Cereal Prices Cause Uncertainty for 2022 Potato Area
With increased production costs including for spraying, diesel and fertilizer potato growers in the NEPG zone may shift fields away from potatoes, the release says. Increased prices for cereal crops could make switching area to them more attractive.
"Potato growing involves ever higher risks, be it financially (higher production costs) or regarding climate change issues," the release notes.
NEPG is predicting contract prices for the 2022/23 growing season will need to increase by three to four euros per 100 kg in order for growers to consider planting potatoes. The release notes if this doesn't happen then area decreases could be the solution to better financial situations for growers.
Related Articles
European Potato Production to Drop Seven Per Cent This Year
French Fry Supplies to be Tight in Europe