[deck]Recent innovations in potato handling equipment is making life much easier for growers and their employees. Spud Smart takes a closer look at some of these innovations and the potential impact they could have on potato operations across the country.[/deck]
At one time, the only real tools a potato farmer needed were a trusty spade and a good strong back.
While a little blood, sweat and tears can still go a long way in determining how successful a grower can be, having the right tools has become increasingly important. New developments in technology, mechanization, storage and breeding are allowing growers to produce more spuds with fewer resources.
The challenge for many potato producers is choosing which tools are right for them and their operations. Spud Smart recently took a look at some of the latest innovations in potato handling equipment and how they are making life easier for potato growers from coast to coast.
H.F. Stewart & Sons
H.F. Stewart & Sons is based in West Point, P.E.I., the largest potato producing province in the country. It's been in business since 1989 and manufactures a full line of potato handling equipment to local producers as well as those in Nova Scotia, New Brunswick, Quebec and Ontario.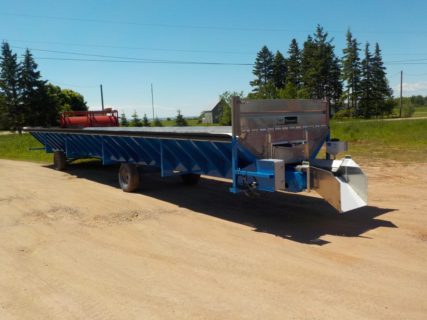 One of the company's most popular offerings is its van trailer inserts. The insert slides into the bottom of an enclosed trailer and essentially turns it into a line floor system, allowing growers to load their crops into the trailer and easily unload them later onto a conveyor system. H.F. Stewart has been building the insert since 2009, but undertook a major redesign of it two years ago to make it lighter and more efficient with a stainless steel option added.
Business assistant Zacharie Stewart says one of the major advantages of the inserts is that they make life far easier for drivers who are hauling spuds from the field. They no longer have to climb into the back of the truck to place boards down on the floor of the trailer while trying to avoid the bin piler.
"We saw a need," Stewart says. "It was kind of dangerous work and hard on your back. A lot of the drivers were getting older and it was getting hard to attract younger drivers. With the insert there's no longer a need for planks and there's no longer a need to climb into your trailer. You just flip a switch and it will completely offload for you instead of having to get in and pull out planks."
In addition, the stainless steel walls provide a food grade contact surface and there's no concerns about wood chips ending up in a bag of potatoes or potato chips.
"We're getting a lot of positive feedback," Stewart adds. "We actually have one customer who has 40 of them. He loves them."
HJV Equipment
HJV Equipment has four locations including two in Ontario, one in New Brunswick and another in Prince Edward Island. The company, which was founded by Harry Jacob Vander Zaag, manufactures and distributes a full line of mostly stainless steel farming equipment including conveyors, elevators, holding bins and washing equipment.
HJV recently unveiled a new stainless steel prototype barrel washer that could be a game-changer for potato growers. The company's 1500 series barrel washer measures 30 feet long and five feet in diameter, making it one of the biggest washers on the market. It features a tank filled with water and a barrel that is submersed in about 10 inches of water.
Dan Mann, vice-president of engineering for HJV, says the 1500 barrel washer can handle more potatoes than most comparable products currently available and is ideal for "high volume situations."
Not only is it bigger than most of its rivals, HJV's 1500 barrel washer is also more efficient. A unique lining system scrubs deep eyes in potatoes and removes most of the dirt attached to them, something Mann says most barrel washers aren't capable of doing.
HJV's newest offering is also environmentally friendly. An auger in the bottom of the tank separates the dirt from the water being used to wash the potatoes, meaning the water can be reused rather than having to be replaced with each load.
"Our water consumption is way less than with traditional barrel washers," Mann says. "We're probably using 75 per cent less water."
Alliston Machinery
Alliston Machinery is based in the town of the same name in the heart of Ontario's potato country. It manufactures and sells a wide range of heavy-duty potato handling equipment designed to help growers from planting to storage.
The company recently released a new version of its planter loader. It's essentially a giant metal box that can be quickly filled with seed in the front and fertilizer in the back. The entire planter is then lifted into the air and loaded onto the back of a truck in a matter of minutes. Compare that to most conventional planter loaders, which can require as much as 20 minutes to complete the same process.
President Karl Weischedel says the loader is ideal for bigger operations that are always looking for innovative ways to move things along faster.
"The driver backs underneath it and he's gone in a minute compared to using a conventional auger which can take 15 to 20 minutes. You start adding that time up over the course of a day or a week of planting … and you can save a lot of time and cover a lot more ground," he says.
Another recent offering from Alliston is its mobile grader. At 72 inches wide, it is far bigger than many conventional graders, which max out at 48 inches. It also has room for up to 10 workers and a sophisticated dirt elimination system.
"The whole key is to get as much volume into storage during a single day. The only way to do that was to go bigger and wider," Weischedel adds.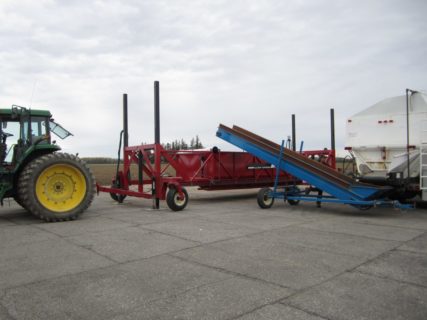 Dewulf
Belgian manufacturer Dewulf and its line of potato handling equipment has been a popular choice among potato growers in this country for some time. It recently released several new pieces of potato handling equipment for Canadian growers.
One of those recent additions was the Miedema Field Loader 240, a combination of a receiving hopper with an elevator. The stand-alone transfer unit offers high cleaning capacity with ease of use and dramatically reduces the amount of soil and waste generated when transferring crops in the field. It's also suitable for road transport and allows waste to be directed centrally to the ground or into a small truck courtesy of an optional hydraulic height adjustment to its soil discharge conveyor.
Another recent product offering is the MB 111 Xtreme, an upgrade to the company's automated box filling system, which is capable of filling 100 tonnes per hour at a constant capacity, with minimal forklift truck movements. It can handle boxes up to 2.45 metres in length and 1.45 metres in height, with a total tonnage of up to three metric tonnes.
Ezratek
Ezratek (formerly known as Packing & Palletizing Company) was started in Prince Edward Island in 2002 before relocating to Winkler, Man., in 2011. It was founded by owner Theo Polstra — a potato farmer who understood the struggles today's potato farmers face — who began designing his own palletizers, big bag fillers and grading lines.
One of his company's newest offerings is its P50 Palletizer, which has been likened to the Cadillac of the palletizing world. The two-year-old system boasts superior stacking capability because of its ability to form, squeeze and compress bags from all sides. A touchscreen makes it easy to operate and the fact it's built using standard parts purchased in North America means repairs can be quickly made. Equally impressive is the fact it has a capacity to stack up to 24 bags per minute on pallets up to 54 by 60 inches.
Polstra says the beauty of the machine is that it allows you to deploy staff more efficiently and perform less physically-demanding tasks.
"It takes away the really physical labour of stacking bags. It's not meant to replace people. It's there to make their job easier. People can do different tasks rather than lifting bags all day long," he says.
Crop Shuttle
Located just south of the Canada-U.S. border in Park River, N.D., Crop Shuttle started out building sugar beet carts. That design was modified a couple of years ago so these custom-designed carts can now haul anything from carrots to cucumbers and, of course, potatoes. Crop Shuttle carts come in three standard sizes (36, 46 and 56 tons), but can be customized to meet the specific needs of individual growers.
So, what makes Crop Shuttle different from other carts out there? One of the big differences is that it has tracks instead of wheels. That means growers can operate it in even the muddiest field without fear of it getting stuck. The track system is also light on the ground and transmits far less surface pressure than a wheeled cart.
"Reducing compaction has been a focus in Europe for many years and we're starting to catch on here. The more you beat up that ground the less it's going to give you," says Crop Shuttle's Jacob Kringstad.
A key selling point of the Crop Shuttle is its versatility. The cart can be easily modified with various cleaning tables to allow for the removal of more debris and trash while in the field. In addition, Crop Shuttle offers a patented, self-contained, conveyor system that allows it to be filled with seed which can then be used to fill a planter.
"The feedback we've gotten [from potato growers] has been great. We really only got into potatoes about two years back, but this year about 75 per cent of our units are going into potatoes," says Kringstad, adding the company has made a number of sales to potato growers in Alberta, Saskatchewan and Manitoba.
Lockwood Manufacturing
West Fargo, N.D.-based Lockwood Manufacturing has developed a loyal following among growers on both sides of the border for its innovative potato handling equipment.
One of its more popular recent products is the VACS (Vacuum Air Controlled Separation) mobile cleaning unit. This model was rolled out about a year ago and is similar to the first two iterations of the device. The main difference is that it's a single piece unit that can be moved from location to location and requires almost no set up or external power source.
Michael Nilson, Lockwood's business manager and chief engineer, says in addition to providing superior capacity cleaning in even the most remote spots, the mobile VACS unit offers one-of-a-kind quick-change table technology that allows growers to easily swap in or out one of five different tables to meet a host of environmental conditions.
It's also environmentally friendly. Most of the debris that is cleaned from the potatoes is contained within the VACS mobile itself.
"Our work environment is very clean compared to most of our competitors," Nilson adds.
Prairie Side Equipment
There are few things more frustrating for a potato grower than losing a portion of their product to poor storage equipment and conditions. Prairie Side Equipment in Taber, Alta., has a simple solution to help prevent such loss. It manufactures potato boxes that sales and service manager Frank Michielsen says can help ensure growers are able to send 85 to 90 per cent of the potatoes they put into storage back out to market. The boxes come in two standard sizes — 6 feet x 4 x 4 and 6 x 4 x 5 — but can be customized to fit a client's individual needs.
The company's storage boxes are manufactured using wood imported from Northern Europe to ensure the highest quality. They are precisely cut to provide strength and even airflow which helps prevent potential skinning or bruising.
"We looked at local suppliers for a long time but the quality of wood is just not available here," Michielsen says.
The boxes can pay for themselves within a couple of years, he adds.
"You can't have a good ROI if you only have 50 per cent going back out of the shed. You transport all of that product and invest in storage space for nothing if half of your storage is trash due to pressure, rot or quality issues due to improper ventilation practice."
Spudnik
Spudnik remains one of the biggest names in the business when it comes to potato harvesting equipment. And with good reason, says Al Koyata, manager of Growers Supply Ltd. in Taber, Alta.
Growers Supply distributes a number of Spudnik products including the company's popular AirSep Harvester. It comes in two models — the two-row 6621 and the three-row 6631. Its gentle, high capacity potential is perfect for any variety of potato.
The AirSep separates dirt from potatoes so well farmers can use cleaning staff to carry out other tasks. It also helps to significantly increase production and efficiency, Koyata adds.
"There are guys who are putting away over 2,000-plus tons a day. That's pretty good volume. In the past, a 1,000-ton day would have been a good day."