A farmer in Manitoba, who experimented with direct seeding and minimal tillage in a potato field, harvested a crop statistically on-par with his conventionally planted fields.
An experiment to try out using direct seeding with minimal tillage for potato planting is being deemed a success after the crop harvested was statistically on-par with the other half of the field in a side-by-side comparison.
"I was very happy with how the trial went, we had a good quality crop come off," Chad Berry says in a phone interview. "It did have a little less yield than the other side, and I think we attributed that to the dryness in the spring when we didn't get moisture on the seed piece."
Last summer Berry experimented with direct seeding using minimal tillage for the second time in one of his potato fields. The previous year he had upgraded his seeding equipment to a SPUDNIK 8080 planter with hill shapers mounted on the back, which allowed him to plant potatoes using minimal tillage. A wet, cold fall forced him to abandon the field before harvest though.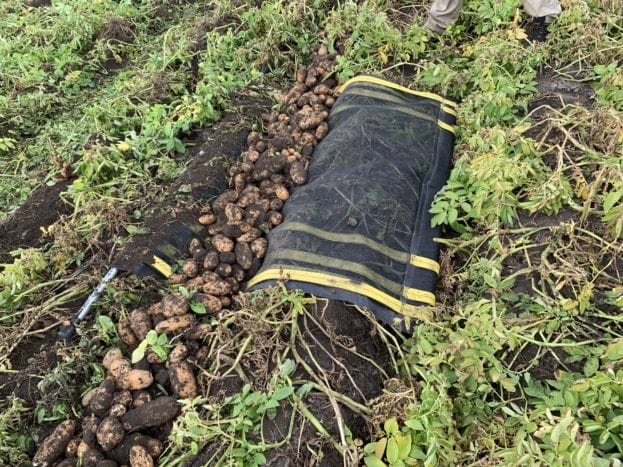 In the fall of 2019, he ripped a canola field with an eco-till sub-soiler with 1 ¼ inch shanks at a depth of 15 inches. Then in the spring of 2020, he seeded 70 acres of the field with direct seeding, the fertilizer was broadcast on top and then the planter ran directly into it. The rest of the field was planted traditionally in order to allow for a comparison.
He worked with his processor J.R. Simplot Company and Vikram Bisht with Manitoba Agriculture to monitor the field throughout the growing season. In June, Simplot hosted a field day at Berry's farm, Under the Hill Farms near Cypress River, Man., for its other growers to learn more about Berry's experiment.
At the time of the field day, the potato field was looking promising. The only difference between the two sides of the field which had been noted so far was that the conventionally planted side emerged a few days before the minimal tillage side.
"Towards the end, we found that there was no difference in the crop growth and the production, the yields in both were statistically very similar," Bisht says in a phone interview. "Even though the traditional yielded a bit more numerically, it was statistically not superior to the direct tillage."
Over the course of the growing season Bisht and Simplot monitored the field, testing soil compaction between the two sides of it and measuring hill dimensions. Sensors in the hills also recorded soil temperature and soil probes monitored moisture levels.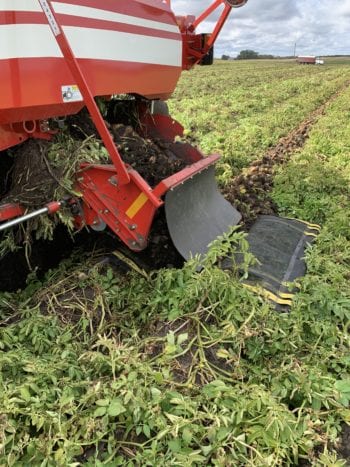 At harvest, Bisht and Scott Graham, agronomy raw development manager with J.R. Simplot Company, placed a five-foot tarp on poles in the field. When the windrower passed under harvesting six rows, they then collected the potatoes from within the five-foot area. They did this in four spots on both the conventional and minimal tillage sides of the field.
Graham did a quality assessment on potatoes from the field, where he evaluated size grading, gravity and a few other things. Bisht conducted a potato tuber disease assessment. It was found that statistically, potatoes from the two sides of the field were not very different.
"We did not see any differences notably, and there are no differences in size profile, no difference in gravity as well too and no differences between hollow heart and sun-burn as well," Graham says.
By using direct seeding and minimal tillage Berry found soil erosion was reduced in the field, he also saved money on fuel and workload by having to do less passes in the field. He is planning to expand the trial next year and do two half fields instead of one. Bisht and Graham plan to continue studying his work.
"Direct potato planting into a crop stubble may have a niche, this is what I can understand from just one year of field study. We hope to repeat this next year as well and have more data points of more variables or parameters to study and see if we can round up this study, so it makes actionable ideas for different growers," Bisht says.