Forget mashed, baked or fried — potato ice cream is just one of the recipes whipped up from the country kitchen of Australian spud growers Phil and Val Murphy.
For more than a century, the rolling plains of rich, red earth in the heart of Gippsland, Victoria, have been prime spud-growing territory. Tons of potatoes are trucked out during harvest time from January to June and served up to shops and supermarkets in Melbourne, Sydney and Brisbane.
But it's what Val Murphy is cooking up and serving to guests on her "Potato paddock to plate'' tours that could really put this region on the map.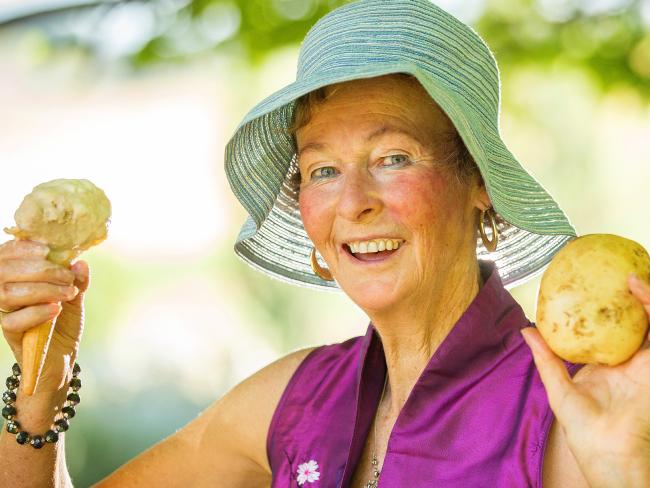 Potato dips and even potato chocolate cake are on the menu — but it's the ice cream that has really raised eyebrows.
"I've been doing it for 26 years,'' she says. "It's mashed potato with a little caramel syrup, cream, gelatine and milk. People love it, it's quite a talking point.''
Potato farming has been at the centre of this couple's life — they have called Thorpdale home for more than 50 years.
Murphy says potatoes are too often blamed as a culprit in the war for good nutrition. But such flak was unfair. She adds it is how spuds are cooked and served that make the difference.
"We reckon potatoes are pretty special,'' Mrs Murphy said. "They are no more fattening than an apple.You can do so much more with potatoes, not just boiled or mashed or baked. You can cut down on your fats and your flours by using them as an alternative.''
"There's lots of different things you can do with potatoes, they are very versatile.  I often make potato boston bun, no eggs, no butter and it's a great nutritious recipe; and potato after-dinner mints."
Murphy's efforts in promoting potatoes earned her a nomination for a national AUSVEG Women in Horticulture Award in 2010. AUSVEG is the prescribed peak industry body for the Australian Vegetable and Potato Industries.
Sources: Melbourne Herald-Sun; ABC Gippsland