Things looked very different across the province from July 22 to 26 depending on the area.  Digging of the fresh-market crop has started near Leamington, Ont. Quality and size look good.
Growers are digging the earliest planted fields in the Simcoe-Delhi region, but the area is dry. "Harvest has started for us and the crop looks good. We need some rain because harvesting and irrigating are not a great combination," said Joe Lach, owner of Fancy Pak Brand Inc.
Irrigation was the order of the day near Alliston, Ont.  There hasn't been an inch of rain for weeks.  Fortunately, the irrigated fields are looking healthy.  Some non-irrigated fields are showing signs of stress.
The Shelburne-Melancthon area has also been dry. Irrigated fields are flowering with closed rows. Non-irrigated fields are looking healthy but need rain badly.
My variety trials are looking very nice.  Dig tests on Friday at the trial near Waterdown showed good quality tubers with smooth skin and  good size.  One of the varieties in this trial is named Alliston.  The Quebec breeder Andre Gagnon chose the name because the clone was outstanding in variety trials near Alliston a few years ago.  He told me that the variety was registered two weeks ago.  See the attached photo of Chris Brenn, his daughter Kendall and a hill of Alliston.
The filters continue to catch spores of late blight in Simcoe, Dufferin and Norfolk counties.  Monitor your fields regularly. The weather is not ideal for late blight, but it pays to be vigilant.
Last, but not least, time to monitor your fields for the black cutworm. The second generation of black cutworms usually develops at the end of July.  Young larvae feed on the foliage in the evenings and hide in the soil near potato stems during the heat of the day.  The mature larvae feed on tubers.  Feeding damage renders the potatoes unmarketable (see photo) and causes serious economic losses.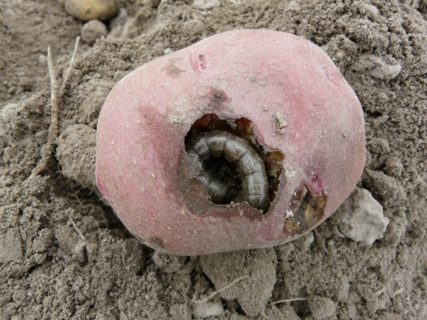 The black cutworm is a sporadic pest and for some reason certain fields appear to be more at risk than others. Scouting is critical.  Look for holes in the leaves.  Spray in the evening when 10 per cent of the plants show signs of feeding damage. Voliam/Express and Coragen are registered to control cutworms.