Tyler Heppell has returned to the family farm, Heppell's Potatoes, and is bringing new ideas, and TikTok, to it.
Tyler Heppell didn't always enjoy farm work.
Growing up on the family fresh potato farm Heppell's Potatoes in Surrey, B.C. he and his brothers would be expected to help around the farm. When he left for university, he declared he wouldn't return. But a decade later he changed his tune.
"My dad had a conversation, and he was basically like, 'If you ever want to come back to the farm, now's your chance. I'm going to be stepping out in the next few years. So, if you want to give it a try, now's your chance,'" Tyler says in a phone interview.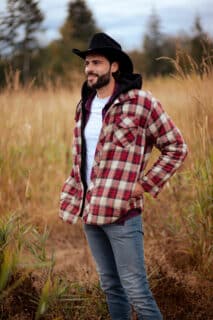 Tyler had studied business in university and then worked in sales for five years, living in the United States for a few months. He knew he wanted to do something different though, so he founded his own startup, which flopped. After that he had interviewed for some more sales jobs when his dad Wes approached him about coming back to work on the family farm.
"There's a lot of sweat equity that goes into building a successful multigenerational ag company. And so, I can say from [my wife] Laureen and I's perspective, having Tyler here for the last 10 months has dramatically changed our outlook on what we're doing. The next generation comes in looking at agriculture from a different way than maybe we were learned or were brought up," Wes explains in a phone interview in late October.
The Heppell's have been farming their land for 102 years with Tyler being the fifth generation working the land. Tyler has been working as the production manager since returning to the farm in early 2022. He's working to learn about all aspects of the farm so he can keep his family's legacy going.
One of the parts of his job has been bringing new ideas to help move the farm forward. Part of how he's doing that is through social media. On his TikTok account @heppellspotato he teaches his more than 346,600 followers about agriculture and potato production. He has used the platform to bring awareness to a petition Heppell's Potatoes currently has running to try and stop commercial development of farmland they rent from the federal government.
"I made a video to try to raise awareness and I think it was my third video that I made. It got like 800,000 views and kind of blew up, and then we were able to launch a petition, the petition got 70,000 signatures, and then it kind of just snowballed," he explains.
Tyler also launched an ugly potato giveaway day on the farm during the 2022 growing season which he promoted on his TikTok channel. They give away the potatoes that don't make grade and are unable to be sold in supermarkets for free, collecting donations for the local food bank. They had five different giveaway days during the summer with attendance growing from 10 people to over 4,000.
"Because of TikTok it's been able to open a lot of doors for us and it's been able to give us a voice, and we're trying to be very responsible with it and use it to educate the end consumer. So right now, I'm just really trying to focus on showing people that yes, produce can be ugly, but it's still nutritious," Tyler says.
Tyler plans to continue working on the farm, he's enjoying the challenge of it and wants to continue to improve the farm. He wants to increase automation to make the farm more profitable and he also plans to continue his social media work to raise about agriculture and the land that's used to farm it.
Header photo — Tyler Heppell is the production manager of Heppell's Potatoes in Surrey, B.C. Photo: HoneeBeePhotographee
Related Articles
How to Sell Your Not So Perfect Spuds
Sharing Potatoes in Good Times and Even in Bad