A Calgary, Alta. brewery has brewed a beer using potatoes as its specialty ingredient.
Thinking outside the box isn't new for the Establishment Brewing Company. The two-year-old Calgary, Alta. brewery likes to dabble with interesting ingredients when making specialty beers, which is why This Spuds for You made sense to brew.
"We're kind of poking fun at Budweiser a little bit. Because you know, we're craft, we're independent and they're the big guys. So, we're kind of making a joke about that and our motto here at the Establishment is that we don't discriminate against any beer styles," Mike Foniok, head brewer of the Establishment Brewing Company, explains in a phone interview.
The 4.5 per cent alcohol content American lager beer was brewed using AAC Connect barley from Red Shed Malting and Russet Burbank potatoes. In the brewing process, adjuncts are usually added to help cut down flavour. These non-malted ingredients are used to make lighter beers taste not as "beer-like." Corn or rice are common adjunct ingredients, but Establishment used potatoes instead.
"We replaced almost 20 per cent of the barley with potato. In the mash, we are able to convert the potato starches into sugars. And then those sugars eventually get fermented by yeast to make alcohol," Foniok explains.
The potatoes were first boiled with the skin on and then added to the mash — making for a very labour-intensive process. It took five to six weeks to prepare and ferment the limited-edition beer, following many test batches.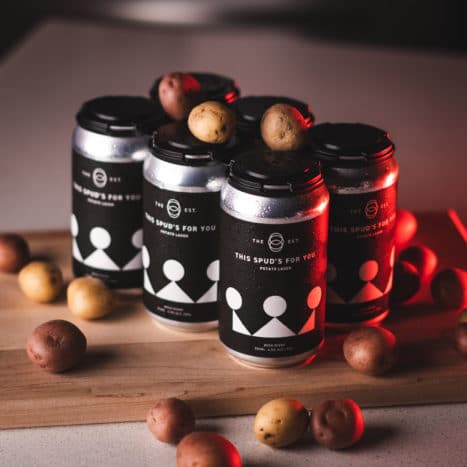 The beer looks and tastes like Budweiser, Foniok says. It has a straw clear look to it with a low hop flavor and aroma. There is a hint of potato in the beer's aroma.
To go along with the Budweiser pun, the Establishment Brewing Company packaged the beer in short 355-milliliter six can packs, not the typical tall 473-milliliter cans craft breweries use.
"I think in general people really like it. Some are a little bit confused, because we're a brewery that kind of is known to make extremely flavorful beers," Foniok says. "So, making an American style lager with potatoes is an interesting twist."
The beer is a partnership with Grow Calgary, a fresh food bank. A portion of proceeds from sales of the beer go to the food bank which grows produce for not for profits, charities and food banks in the Calgary area.
While This Spuds for You is a limited-edition beer, the Establishment Brewing Company is considering brewing other potato beers in the future.
"We're already trying to kick that around, that idea. But generally, with these special specialty beers, we usually just do one batch of it, and then once it's gone, it's gone," Foniok says.
Photo: The Establishment Brewing Company in Calgary, Alta. has brewed an American lager beer using potatoes as an ingredient. Photo: The Establishment Brewing Company
Related Articles
Creating the World's Best Vodka
Developing vodka from waste potato peel