With major potato processing companies McCain Foods and PepsiCo having made regenerative ag pledges, what does that mean for those who grow the spuds?
When McCain Foods announced in June that all potatoes the company bought would be grown using regenerative agriculture practices by 2030, the impact was immediate. Story headlines focused on the pledge and on social media, growers and others in the agriculture industry questioned what it would all include.
Regenerative agriculture and other so-called green pledges are nothing new in the business or agriculture worlds. Over the past few decades more companies have made pledges and share their plans to be greener companies. In that same time, farmers have focused for decades on ways to conserve their soil and make their farms more sustainable overall.
This all means farms and agriculture as a whole is becoming greener, but there's multiple terms being used to describe these processes. Whether it's regenerative agriculture or sustainability, they all have various meanings and practices behind them.
"The principles that I have seen around regenerative ag are similar to the ones that have been employed by some farmers for years. Reducing inputs, using cover crops, reducing tillage to keep the soil in the field. All of those things have been around for a long time," explains Laura van Eerd. "What I'm hoping though is that by packaging it as regenerative ag, that there's an opportunity to look at the entire system and think about it, as opposed to managing one crop."
van Eerd is a professor of sustainable soil management in the School of Environmental Sciences at the University of Guelph, and a research program director for the Ontario Agri-Food Innovation Alliance. She finds there can be a lot of different definitions of what regenerative agriculture is, but if it can be viewed as a toolbox with options to help farmers, it can be beneficial.
Several potato processing companies which have made regenerative agriculture pledges, and each has their own definition of what that includes. In April, PepsiCo, who own FritoLay, pledged it would use regenerative farming practices across seven million acres by 2030, which is approximately equal to PepsiCo's entire agricultural footprint.
With each announcement, it's showing regenerative agriculture means something different to everyone you ask.
The Regenerative Ag Promise and Potatoes
For McCain, the response to their regenerative agriculture announcement has, so far, been what they expected. Customers seem excited, while the growers they work with have shown interest and asked questions.
"I think that most of the feedback was that folks wanted more details, they wanted to know more. They wanted to understand the kind of specific criteria we were working on, the costs, the different practices, and how we would fund and finance those different practices," Jess Newman, senior director of agriculture and sustainability with McCain says.
In the initial news release for the announcement, McCain said it planned to increase crop diversity, ensure soils are covered by living plants or plant residue year-round, reduce agro-chemical use, optimize water use, reduce tillage, and integrate organic matter. Newman says they're working on a more detailed plan to present to growers to answer any questions they may have.
"Our commitment to growers is that we're not going to ask them to implement anything where we don't understand the economics in detail. And part of our commitment too has been launching our Farm of the Future in New Brunswick," Newman explains.
To develop the plan, the company is working with growers while also experimenting with various regenerative agriculture practices themselves. McCain is planning three Farms of the Future events around the world, with the first is located at Florenceville, N.B. Here, they will test regenerative agriculture practices. It's a full-size, 500-plus-acre commercial-scale operational farm. The first potato crop was planted on it this year.
PepsiCo declined an interview request for this story, but in a news release about the announcement said their regenerative agriculture pledge builds on a decade of progress from the company's Sustainable Farming Program.
"PepsiCo will continue to collaborate with farmers across 60 countries to adopt practices that build resilience and improve and restore ecosystems. In the U.S., for example, PepsiCo has worked with farmers to plant cover crops on over 85,000 acres and has seen up to a 38 per cent net reduction in on-farm greenhouse gas emissions, including soil carbon sequestration," the release said.
The release also states PepsiCo is advocating for the establishment of industry-wide regenerative agriculture standards and measurement. However, since that isn't the case yet, PepsiCo plans to measure progress by tracking acres and people engaged in the initiative. Over time, they will track the impact toward five key outcomes: building soil health and fertility, sequestering carbon and reducing emissions, enhancing watershed health, increasing biodiversity, and improving farmer livelihoods.
The Cautiously Optimistic Potato Growers
When growers first saw the regenerative agriculture announcements many were surprised and wanted more details on what exactly they were expected to do.
"We are excited by the direction that the companies are taking. There are some steps that we are taking on our own already. However, as a grower group, we'll have to see how much investment it would take to get there," Harold Perry says.
Perry, who runs a processing and chipping potato farm near Chin, Alta. with his brother Chris, had already been using farming practices which fall under the regenerative agriculture umbrella. The farm grows processing potatoes for McCain's Coaldale plant and chipping potatoes for the FritoLay plant in Lethbridge, Alta.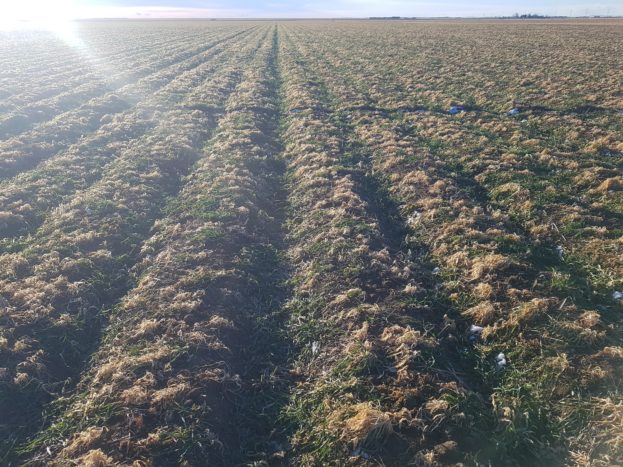 "I think most growers are doing regenerative ag at some level, and I think there's an opportunity to learn more. The awareness of soil health and its benefits are very important," Perry explains.
It wasn't just potato growers who contract with McCain and PepsiCo who were interested in knowing more. Chad Berry who owns Under the Hill Farms near Cypress River, Man. and mainly grows potatoes for J.R. Simplot Co. was surprised the announcement hadn't been mentioned in any grower forums first.
"There was very little details. So, lots of guys were wondering what's happening and what they are going to bring forward for regenerative ag," Berry says.
Berry is known for experimenting with minimal tillage on his farm. He has upgraded his potato planter and in recent years planted potato crops into other crop stubble using reduced tillage. He plans to expand it to more fields on his farm in the future.
For the growers though, they're all looking for more information on what it is going to cost for them to follow these regenerative agriculture practices.
"It's a huge investment for guys to make. And if there's any research and data for those guys to copy, instead of just starting from scratch to begin with, it would help a lot," Berry says.
Moving Forward with Sustainability for Potato Growing
While McCain and PepsiCo have made public regenerative agriculture pledges, another major North American potato processing company, Simplot, has opted for a quieter approach to its green goals. The french fry processor plans to reduce their energy and water usage by 15 per cent by 2030, along with other targets for its facilities.
"The energy goals builds on a previous 10-year energy goal to reduce our footprint 25 per cent," explains Brandy Wilson, Simplot's global sustainability director. "We're looking to reduce water 15 per cent, carbon emissions 20 per cent across our whole organization, and then zero waste to landfill for our food processing plants."
Wilson says their approach to their green goals, which focus on internal operations, is due to how the companNoveNoy is structured. They've opted to not make large public announcements as Simplot provides a full suite of services to the growers they work with — the company's sustainability plans are still publicly available though.
"Since the farmers are our customers and our suppliers simultaneously, it makes so much more sense for us to help work with them on-the-ground, and problem solve with them around sustainability and figure out how to make progress and how to reach some of these goals," she says.
Through Simplot Grower Solutions, they sell agronomy products to growers they work with, and then they buy the potatoes that the growers produce — meaning growers are both customers and suppliers for Simplot.
Simplot works with potato growers across North America on their sustainability goals. This includes Berry, who they have partnered with to do tests on his minimal tillage potato fields. Simplot collects and uses the data from growers like Berry, to give advice and suggestions to other growers they work with.
Along with Simplot's own sustainability goals, they are members of the Potato Sustainability Alliance (PSA), of which McCain is also a member. The PSA was founded 10 years ago to bring together potato processors, farmers, distributors, and restaurants to address potato sustainability challenges, the group's website says. It now includes over 550 American and Canadian farmers, along with companies.
For now, Simplot prefers to refer to their sustainability work with growers as conservation agriculture. Wilson explains conservation agriculture is a better understood term as it points towards the 4Rs Nutrient Stewardship program — right source, right rate, right time, and right place.
"All of these terms like sustainability and regenerative agriculture, I kind of think of them as basket terms, that hold a whole lot of different meanings for different people," she says.
A Greener Future for All Potatoes
While every company may have their own approach to becoming greener, at the end of the day they're all working towards the same goals.
"Consumers want healthy, environmentally safe (food)… not only to protect the environment, they want food that benefits the environment and they want it cheap," van Eerd says. "One of the ways, in my opinion is I think regenerative ag helps in that, is by providing practices that care for and protect the soil. When that happens, then you protect waterways from soil and nutrients entering it."
The challenge now is for the companies asking for these greener practices to work with growers to explain what their definitions include. Companies will also have to be flexible with growers on what work they do to implement these practices as every farm is different.
"You can do one cover crop and it's considered regenerative agriculture or you can be doing 50 different things for your soil, and it's also regenerative agriculture. So there is a large spectrum. There's no one size fits all," Perry says.
At the end of the day, growers and companies are going to have to be willing to experiment to find what works best for each of them.
Editor's note: All interviews were completed over the phone.
Cover photo: tookapic from Pixabay
Related Articles
All McCain Spuds to Be Grown by Regenerative Ag by 2030
Reducing Tillage but Not Quality