Potatoes are filled with starch which can then be converted to sugar and made into alcohol. Two experts on the business of fermentation tell us how and why they came to turn potatoes into good tipple.
Ever try a beer made from potatoes? It might sound strange, but in 2021, Andrew Sookram's customers had the pleasure of doing so when the craft brewery he owns made something called Tony Starch Potato Pale Ale.
Sookram is founder of Sookram's Brewing Co. in Winnipeg, Man., which serves Winnipeggers modern craft beer at its family-friendly taproom and brewery. He spoke during the Canadian Spud Congress on March 22 as part of the Brewing and Distilling with Spuds session.
Sookram's experience using potato in beer is an example of how versatile the tuber is. There is very little potato beer on the market; Calgary's Establishment Brewing Co. make an American-style lager called This Spud's For You, and New Brunswick's Holy Whale Brewing Co. produce a wheat beer with potatoes added. Sookram says what little potato beer there is out there proves that there's a place for spuds in the world of brewing.
"We used about 10 pounds of potatoes in the recipe. It was delicious and customers were extremely happy with it," says Sookram, who founded the brewery in 2019 after brewing beer at home for 10 years.
The resulting beer was light-bodied and a pleasant surprise for customers who didn't think potato would make a good brew.
"A lot of people thought that it would impart a potato-like flavour, like they'd be drinking mashed potatoes or something. It wasn't that way at all."
He explains that potatoes are an adjunct; they simply supply starch which is converted into sugar that yeast then ferment into alcohol. This adds alcohol content to a beer without affecting flavour or body.
Popular styles of beer like mass-produced pale lagers are deliberately designed to be light in body and flavour, but in order to achieve this and still ensure adequate alcohol content, brewers can't use as much barley, which adds body to beer. Enter what are known as adjuncts, which add sugar but no flavour or body. Popular adjuncts include corn and rice, but other materials can be used as well.
"There's some fascinating history behind using potatoes in beer. During the Second World War, breweries couldn't access as much barley because a lot of it was being used to feed cattle. So, they used rice or corn as an adjunct in their beer to make up for the lack of barley," Sookram says.
"When those weren't available, they used potatoes. Potatoes are just another food product we can extract sugar from in order to make alcohol."
"Alberta in a Bottle"
Potatoes contain starch, and starch can be converted to sugar and fermented into alcohol. Run the resulting mixture through a still and you get potato vodka — a clear, odourless and colourless spirit that can be drank straight or in an infinite number of cocktails.
Like potato beer, there is very little potato vodka on the world market. According to statistics, only around three per cent of vodka sold globally is made from potatoes, and only a small handful of vodkas made in Canada are of the potato variety. Among them is Rig Hand Potato Vodka made in Nisku, Alta., by Rig Hand Distillery. Owner and distiller Geoff Stewart spoke during the 2022 Canadian Spud Congress about his experiences making the company's signature potato vodka.
According to Stewart, potatoes give Rig Hand's potato vodka a sweeter, creamier taste than traditional grain-based vodka, making it a wonderful sipping spirit.
"By definition, vodka is supposed to be odourless and flavourless, but with the advent of so many craft distilleries, everybody's doing their own little twist on things. Potato vodka does have a definite flavour to it," Stewart explains.
When it comes off the still, Rig Hand's potato vodka is around 96 per cent alcohol by volume. At that stage, he says it tastes a bit like orange creamsicle and has a very distinct orange-like flavour to it.
"Once it's carbon filtered and diluted to 40 per cent alcohol, what distinguishes it is the creaminess of the mouthfeel on the tongue. It's almost like coating your tongue in cream. Very distinctive, for sure."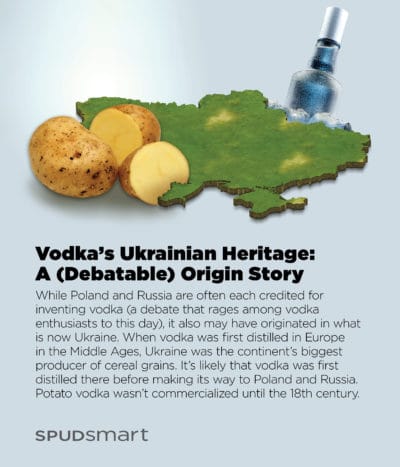 Rig Hand Potato Vodka is made from small red Blushing Belle potatoes, originating from one of the oldest breeding farms in Europe and distributed by The Little Potato Company based in Edmonton, Alta. Some are grown by Alberta's Corey Jesperson, president of CK Jesperson Farms based in Spruce Grove, Alta.
"We tried originally to use some russet potatoes because we knew the starch content was higher. Full-sized potatoes are harder for us to use than the smaller potatoes that have a thinner skin, actually. We're finding that we're having similar starch yields with the Blushing Belles than what we did with the russets. We tried Yukon Gold potatoes, and we've even tried some sweet potatoes," Stewart says.
"Sweet potatoes must have a sulfur component in them because they didn't make good vodka. If you can make find the right potato variety and make a nice potato vodka, what you have is a great, smooth vodka that people will enjoy."
Rig Hand Distillery is the first craft distillery in Niksu. Its products are packaged in a trademarked bottle that is a replica of the Leduc #1 drilling rig.
"It's Alberta in a bottle," Stewart says.
And after winning a slew of awards for its premium vodka, coffee liqueur and sugar beet rum, the business is growing. Rig Hand is building a new facility set to open in November, three miles directly east of the Edmonton airport which will consolidate its four warehouses into one.
It has a sister distillery in Seguin, Texas, called CY Distillery. Its third location — First Light Distillery — was just completed Fredericton, N.B., and is operated by Stewart's uncle and cousin.
For its Maritime operations, the company patented a bottle that looks like the famous lighthouse at Peggy's Cove in Nova Scotia.
The company's potato vodka isn't just a western thing, either. First Light plans to work with McCain Foods in New Brunswick to source potatoes to make a true eastern Canadian potato vodka.
"We were a little company that started with just me and [manager/distiller Mike Beile], seven years ago, and now we're up to 34 staff and three other locations. So, I haven't slept in seven years," Stewart says with a laugh. "Distilling is a passion, and so is making great vodka from potatoes."
Related Articles
Suds from Spuds — How Andrew Sookram Makes Beer from Potatoes
This Spuds for You — A Potato Brewed Beer