Row width is an important part of potato planting, but how do changes in row width affect your crop? Mark Pavek has done extensive research into this and explains his findings in this presentation.
Presenter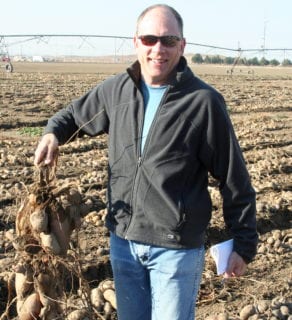 Mark Pavek
Mark Pavek is a professor in the Department of Horticulture at Washington State University in Pullman, Wash. Mark has been the state extension potato specialist since 2004 and conducts applied agronomic and variety development research. He uses his research results to provide outreach to the local industry, aiding in their potato production and marketing. Mark has extensive farming experience and has worked for large ag corporations. He was born and raised in American Falls, Idaho and attended the University of Idaho (bachelor and master of science degrees) and received his PhD from Washington State University. Mark currently serves the potato industry and research community through his role as president of The Potato Association of America. He enjoys spending his off time with his wife Pamela and their family, friends and Labrador retrievers.
The Canadian Spud Congress was held on Feb. 24 to 25, 2021. This was one of the presentations from it.