Simplot potato growers in Manitoba are using soil moisture probes in order to make more informed irrigation choices.
When do you turn on the pivots? It's a question potato growers are always asking. Should I wait and see if it rains, or do I do it now and risk it raining soon after? At J.R. Simplot Company, they've been asking the same question too.
"Irrigation start up after rain events offer complexity to irrigation scheduling and decision-making in Manitoba where rain events can occur frequently," Scott Graham, agronomy raw development manager with Simplot, says in a Microsoft Teams interview. "You might think that an inch or inch and a half of rain buys five to seven days when really, in the middle of the growing season, it's only good for two or three days. Then you've got to start the pivot up."
To assist growers with watering decisions, Simplot has started using soil moisture probes with its potato growers in Manitoba. While soil moisture probes have been around for decades, recent technology advancements have helped them to provide more timely and better detailed information.
Simplot's soil moisture probes are distributed through their smart agriculture division, Simplot SmartFarm, to growers across the United States for a variety of crops from corn to cotton. In Canada, Simplot has only circulated them amongst their Manitoba potato growers so far.
"If the irrigation management practices are not optimal, we may waste water, or fertilizer, which has other environmental concerns. On the other side of that coin, we may not water enough and won't optimize production; soil moisture probes can help reduce those risks," Mark Davis, platform manager for Simplot SmartFarm, says in a phone interview.
The probes are 60 cm in length with sensors at every 10 cm. It measures soil moisture, temperature, and salinity. When placed in the soil, the probe has to be calibrated, this is done following a rainfall by spinning the pivot to get water down to it. The probe should be placed in a uniform spot in the field following the final pass in mid-June. It will then remain there for the growing season sending data to a phone/computer application. There is also a rain gauge on top of it in order to measure water amounts. The probe is removed from the field a week or two before harvest.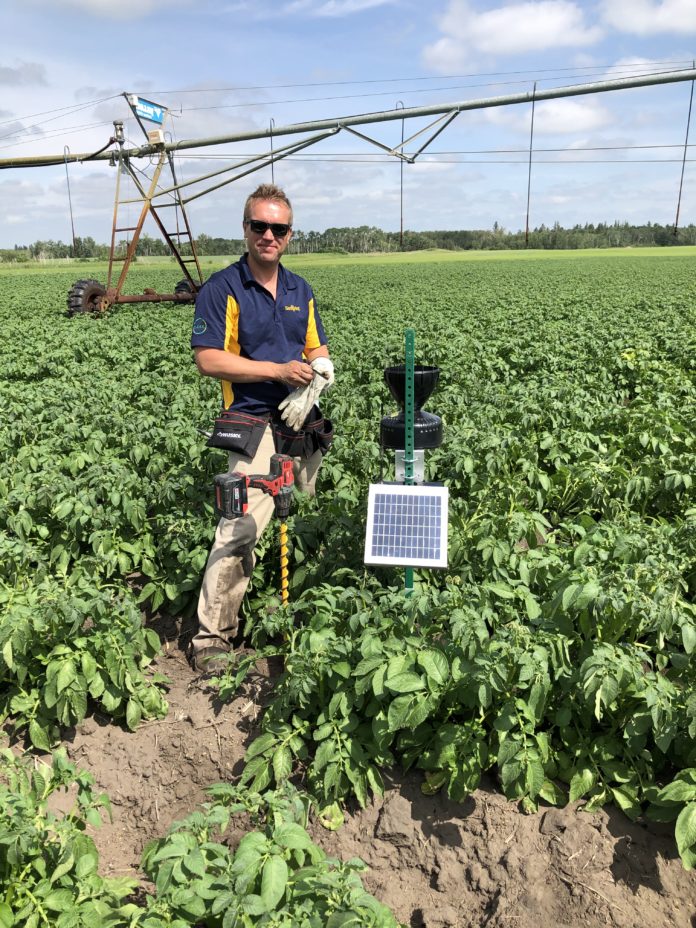 "The whole idea of this app is you can plan your work and your irrigation scheduling on your farm. So, it would help the growers manage their employees or their labour… the rain bucket will always tell what the rain events were. So, it can give you an indication on where you have to go to irrigate after a rainfall," Graham explains.
Simplot introduced the soil moisture probes to its Manitoba growers following the expansion of their Portage la Prairie, Man. plant. The plant was expanded from 180,000 to 460,000 square feet — more than doubling its potato requirement. Manitoba growers have ramped up potato acres to fulfill needs.
The probes were first distributed in 2019 with more given out in 2020. Throughout the first two years Simplot has covered all costs associated with the use of the probes, for the 2021 growing season though Simplot plans to start charging growers for the probes as demand has increased.
On Randy Baron's farm near Carberry, Man. they have always been interested in soil moisture probes, first having rented them 25 years ago from Manitoba Agriculture. At the time they were costly which ultimately led to not using them long term.
"It gave us a confirmation of what we thought the 65 per cent soil moisture level was from a hand feel method. You start to see a leveling out on the graphs when you get below 65 per cent moisture," Baron says in a phone interview.
In recent years they have started to use soil moisture probes again through Crop Care Consulting in Portage la Prairie, Man. as the cost has come down. Last year they were growing a trial variety for Simplot. Because Simplot wanted to closely monitor the trial crop, they were offered Simplot's soil moisture probes.
"I found them more detailed than the ones we had, because they give you a projection with evapotranspiration and weather models — where to expect your moisture level to be every day in advance," Baron explains. "You get a better handle on exactly what to anticipate."
Baron was also able to have Simplot soil moisture probes in some of his other potato variety fields also. Baron says they were able to fine tune their irrigation schedules based on the information from the probes. He plans to use them again this growing season depending on cost.
Image — A field with a centre pivot irrigation system on it which has had soil moisture probes used in it. Photo: Scott Graham
Related Articles
Fry Plant Expansion Up and Running
Soiltech Wireless Makes Moisture Sensors for Less