Canadian researchers are part of a North American-wide initiative aimed at standardizing the way soil health is measured in farmers' fields.
Miles Dyck has a novel way of thinking about soil — it's just like the human body.
An associate professor of soil science at the University of Alberta in Edmonton, Alta., Dyck was speaking at the Alberta Potato Conference in November about soil heath, a term referring to the soil's capacity to function as a dynamic, living ecosystem, sustaining plant, animal and human life, when he made his comparison.
For example, the soil structure, the arrangement of particles within the soil is like the bones and muscles which provide structure for our bodies, he said. The soil solution — water containing dissolved solids, gases and nutrients present in the soil — supports the growth of plants and microorganisms, just like how blood transports nutrients to human tissues and organs. And the microorganisms in the soil serve a vital decomposition/decontamination function, much like the microflora in our bodies digesting food and facilitating removal of waste products.
Using a medical analogy Dyck took the idea even further, explaining how when you go in for an annual check-up, doctors use blood tests and other diagnostic tools to help decide whether to give you a clean bill of health or if there's something requiring further treatment. The same kind of approach, he believes, could be used to assess the state of soil health in a farmer's field.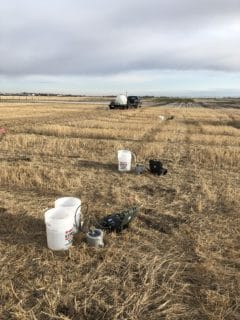 In an interview with Spud Smart, Dyck says he thinks the current accepted soil properties associated with soil quality could be interpreted more holistically to provide a well-rounded picture of soil health — viewed by many as a critical component of a productive and sustainable agricultural system.
"I've heard from farmers that when they send in a soil sample, they want to get an assessment of the health of the soil. It's not enough for them to get values for soil properties — they're looking for an interpretation of what they mean with respect to soil health," he says.
Dyck believes in order for soil health to be accurately assessed and tracked over time, benchmarks and standardized indices need to be established, much like how a doctor will compare your most recent blood test to your past results or to accepted health standards.
This could change though, as a new soil health initiative is looking at making it a reality.
Soil Health Study
The North American-wide initiative was launched last year in response to what many view as a significant barrier to adopting soil health practices and systems — the lack of a widely applicable package of measurements and methods for evaluating soil health.
As part of the initiative, a study is being done by the Soil Health Institute, a non-profit organization based in Morrisville, N.C., dedicated to improving soil health and productivity through scientific research and development. The study is aiming to help the agriculture industry adopt standardized measurements to evaluate and improve soil health while expanding education and tools for farmers, agronomists, scientists and ag policy makers.
As part of the study, soil samples were gathered from 120 long-term agricultural research sites in Canada, the U.S. and Mexico in 2019. The samples are now being analysed and assessed according to a set of soil health indicators devised by a panel of experts for the Soil Health Institute. The 31 indicators include crop yield and a wide and diverse range of soil properties, such as soil pH, soil electrical conductivity, total nitrogen, soil organic carbon, soil texture, aggregate stability, available water holding capacity, bulk density and soil penetration resistance.
Charlotte Norris, the Canadian project scientist for the Soil Health Institute initiative, collected more than 300 samples from 17 locations in Alberta, Saskatchewan, Manitoba and Ontario last year. She's now gathering information from researchers at soil sampling locations on what kind of management practices have been used at each site.
Norris says once all the data is in, this should enable the Soil Health Institute to link soil heath indicators to specific management practices such as crop rotation, fertilization and tillage.
"We'll be able to relate these different management practices to the changes in the soil, and then start to get into understanding what management practices will support soil health," she says.
Dyck is one of those assisting with the Soil Health Institute project and is providing information on the field management history at the Breton Plots research site near Edmonton, which was established by the University of Alberta in 1929.
He maintains the study will benefit potato farmers and other growers by establishing a database able to provide direction on what constitutes a healthy soil and best management practices for ensuring soil health.
"It should provide a very robust reference for farmers to compare their own soil to," Dyck says.